Relocation Guide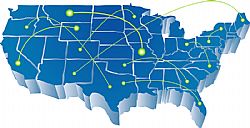 Whether you desire to relocate to a specific location, or you strongly prefer not to relocate, be sure to let us know via the Online Registration, or direct contact otherwise. We hope that we can be helpful to you either way.
And in case you are at least somewhat open to relocation for a better employment opportunity, …, our strength in many local markets throughout the United States enables us to often find outstanding employment opportunities for professionals to consider prior to a move – often with relocation assistance too.
FIND YOUR OWN BEST PLACE TO LIVE
In case you are curious as to an area in the United States that may be the best overall fit for you and your family, and you are open to learning about and seriously considering such locations, we recommend that you (and any others who would be moving with you) individually visit http://www.findyourspot.com/. For more information, go to http://www.findyourspot.com/home/HowItWorks.asp
Get a FREE Homes & Land real estate magazine from your area(s) of choice: http://www.homesandland.com/OrderMagazine.cfm
Local newspaper online classifieds / real estate section is another good source to evaluate houses and/or apartments in an area in which you are considering for relocation.
Helpful resources on researching your move location, getting ready for a move, moving, etc.